Audubon Birds by Green Mountain Digital. This review describes the Android version.
I was in the market for a inexpensive Android bird watching application. The highly touted Sibley guide cost $20. Other programs seemed cheap and shallow by comparison. I finally chose a name I knew from my paperware guides — Audubon — which cost about $4.
This guide offers an in depth view of North American birds as far south as Mexico. The data base is a space hog: you can either access it via the web (which can take time when InterNet traffic is heavy) or you can download it to your cell phone/tablet. The developers suggest putting the app and its database onto your SD card but with my Google Nexus 10 there is plenty of room.
The app lets you do many things: look up birds by name, shape, or family; find birds via the Cornell Laboratory of Orthinology's Ebird; search for birds by color, location, size and other characteristics; and keep a record of your sightings. For those who don't have a clue about natural history, there is a small section about the lifestyles of the feathered and famous.
Purists won't like that the app uses photos instead of drawings, but Audubon Birds provides several images of the birds in their differing plumage. This helps when dealing with subtle variations in a species. Descriptions also deliver range maps and voice recordings. All good stuff.
I keep two lists of the birds that I have seen. One is a life list where I put everything and another is a list of birds that I see in a nearby wilderness park. Sightings can be shared on Facebook and Twitter. Your observations go on NatureShare for others to follow. Audobon Birds allows you to add field notes to your sightings, adjust locations, and upload a photo of either the bird or the location where you saw it. If you don't do either, it uses a file photo though it chides you for doing so.
The trouble is that once you have saved the sighting, you cannot edit the details later. I was searching for Towhees when I first got the app and accidentally clicked on the Albert's Towhee. The subsequent save engraved the false sighting before I was aware of my mistake and it is there now as a monument to my carelessness. It appears on my Life List as well and I cannot remove it. The programmers should know better.
Life lists cannot be shared across devices either.
Another problem pertains to the searches. When you choose California as the location for your search — either as a state or as a nature province — you are delivered not only birds that reside here but also accidentals and other dubious visitors. For example, if you search for sparrow-sized birds, it will deliver several Eastern warblers because someone thought they saw one out here once. When you are trying to narrow things down, this is very distracting. You should at very least be able to exclude such identifications from your search if you wish. Again, I wonder why the programmers did not think about it.
The pictures below show the progression of screens when you are trying to find a particular pelican species by shape: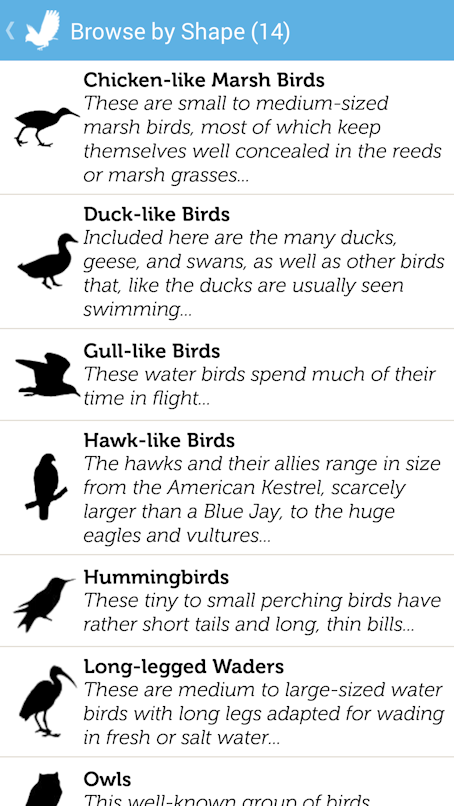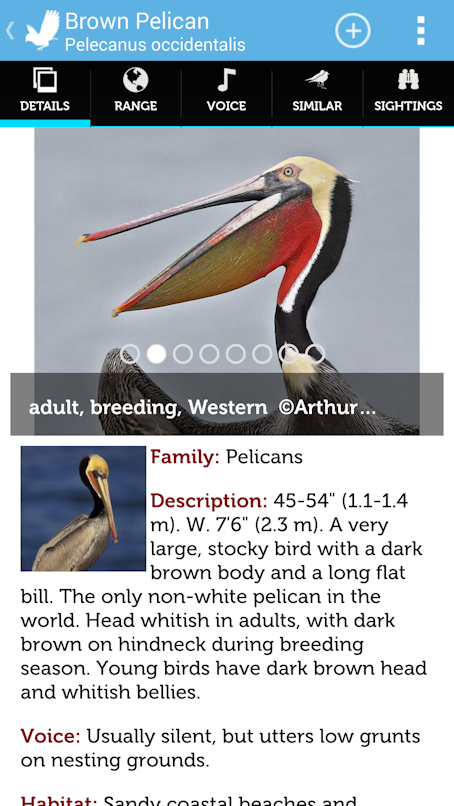 In summary, I like Audubon Birds but there are some serious changes to be made before I am completely comfortable with the app. It is far cheaper than the Sibley guide, easy to use, and comprehensive. Yes, I can recommend it.
FULL DISCLOSURE: I paid for this app. Green Mountain Digital did not see the review before I published it. The opinions contained herein are mine alone.